Just one of many implementation using MS2109.

I was skeptical at first because this 4k device costs only $8 shipping included.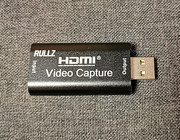 On the Aliexpress pages you could find information that it can capture video format as 1080p 30 frames. But Windows Media Foundation informs us that it can even capture 1080p 60 frames in MJPEG as you can find in below logs. Well...it's wrong. If you set 1080p60 the capturing instance will stop working no matter what other resolution you will choose later and the restart of HyperHDR is required. In version 12.1.0.0 I've included a fuse to prevent that situation but you must avoid setting that 1080p60 mode manually.

But it seems it's solid solution, better than many expensive experiments found on Aliexpress. You must just be aware of the buggy 1080P60 mode that is reported by Windows driver.

Fully supported under Windows 10 with HyperHDR 12. Under Linux that depends on distributions so it's safe to say it works for Rpi with latest Raspbian or HyperHDR SD image.
Lower resolutions for MJPEG aren't great but a bit better than from Ezcap 269. Seems that Ezcap has higher compression rate for JPG frames.


Without tone mapping from HyperHDR input image for BT2020 color space is washed out:
Hardware supports control of all common video parameters.

Verdict?
Forget about UTV007...this is new budget king.

Windows logs:
Brightness: min=-128, max=127, default=-11
Contrast: min=0, max=255, default=148
Saturation: min=0, max=255, default=180
Hue: min=-128, max=127, default=0;
Windows logs:

 Found capture device: USB Video
 *USB Video 1920 x 1080 @ 60 fps MJPG (mjpeg)
 *USB Video 1920 x 1080 @ 30 fps MJPG (mjpeg)
 *USB Video 1920 x 1080 @ 25 fps MJPG (mjpeg)
 *USB Video 1920 x 1080 @ 20 fps MJPG (mjpeg)
 *USB Video 1920 x 1080 @ 10 fps MJPG (mjpeg)
 *USB Video 1600 x 1200 @ 60 fps MJPG (mjpeg)
 *USB Video 1600 x 1200 @ 30 fps MJPG (mjpeg)
 *USB Video 1600 x 1200 @ 25 fps MJPG (mjpeg)
 *USB Video 1600 x 1200 @ 20 fps MJPG (mjpeg)
 *USB Video 1600 x 1200 @ 10 fps MJPG (mjpeg)
 *USB Video 1360 x 768 @ 60 fps MJPG (mjpeg)
 *USB Video 1360 x 768 @ 30 fps MJPG (mjpeg)
 *USB Video 1360 x 768 @ 25 fps MJPG (mjpeg)
 *USB Video 1360 x 768 @ 20 fps MJPG (mjpeg)
 *USB Video 1360 x 768 @ 10 fps MJPG (mjpeg)
 *USB Video 1280 x 1024 @ 60 fps MJPG (mjpeg)
 *USB Video 1280 x 1024 @ 30 fps MJPG (mjpeg)
 *USB Video 1280 x 1024 @ 25 fps MJPG (mjpeg)
 *USB Video 1280 x 1024 @ 20 fps MJPG (mjpeg)
 *USB Video 1280 x 1024 @ 10 fps MJPG (mjpeg)
 *USB Video 1280 x 960 @ 60 fps MJPG (mjpeg)
 *USB Video 1280 x 960 @ 30 fps MJPG (mjpeg)
 *USB Video 1280 x 960 @ 25 fps MJPG (mjpeg)
 *USB Video 1280 x 960 @ 20 fps MJPG (mjpeg)
 *USB Video 1280 x 960 @ 10 fps MJPG (mjpeg)
 *USB Video 1280 x 720 @ 60 fps MJPG (mjpeg)
 *USB Video 1280 x 720 @ 50 fps MJPG (mjpeg)
 *USB Video 1280 x 720 @ 30 fps MJPG (mjpeg)
 *USB Video 1280 x 720 @ 20 fps MJPG (mjpeg)
 *USB Video 1280 x 720 @ 10 fps MJPG (mjpeg)
 *USB Video 1024 x 768 @ 60 fps MJPG (mjpeg)
 *USB Video 1024 x 768 @ 50 fps MJPG (mjpeg)
 *USB Video 1024 x 768 @ 30 fps MJPG (mjpeg)
 *USB Video 1024 x 768 @ 20 fps MJPG (mjpeg)
 *USB Video 1024 x 768 @ 10 fps MJPG (mjpeg)
 *USB Video 800 x 600 @ 60 fps MJPG (mjpeg)
 *USB Video 800 x 600 @ 50 fps MJPG (mjpeg)
 *USB Video 800 x 600 @ 30 fps MJPG (mjpeg)
 *USB Video 800 x 600 @ 20 fps MJPG (mjpeg)
 *USB Video 800 x 600 @ 10 fps MJPG (mjpeg)
 *USB Video 720 x 576 @ 60 fps MJPG (mjpeg)
 *USB Video 720 x 576 @ 50 fps MJPG (mjpeg)
 *USB Video 720 x 576 @ 30 fps MJPG (mjpeg)
 *USB Video 720 x 576 @ 20 fps MJPG (mjpeg)
 *USB Video 720 x 576 @ 10 fps MJPG (mjpeg)
 *USB Video 720 x 480 @ 60 fps MJPG (mjpeg)
 *USB Video 720 x 480 @ 50 fps MJPG (mjpeg)
 *USB Video 720 x 480 @ 30 fps MJPG (mjpeg)
 *USB Video 720 x 480 @ 20 fps MJPG (mjpeg)
 *USB Video 720 x 480 @ 10 fps MJPG (mjpeg)
 *USB Video 640 x 480 @ 60 fps MJPG (mjpeg)
 *USB Video 640 x 480 @ 50 fps MJPG (mjpeg)
 *USB Video 640 x 480 @ 30 fps MJPG (mjpeg)
 *USB Video 640 x 480 @ 20 fps MJPG (mjpeg)
 *USB Video 640 x 480 @ 10 fps MJPG (mjpeg)
 *USB Video 1280 x 720 @ 10 fps YUY2 (yuyv)
 *USB Video 1920 x 1080 @ 5 fps YUY2 (yuyv)
 *USB Video 1600 x 1200 @ 5 fps YUY2 (yuyv)
 *USB Video 1360 x 768 @ 8 fps YUY2 (yuyv)
 *USB Video 1280 x 1024 @ 8 fps YUY2 (yuyv)
 *USB Video 1280 x 960 @ 8 fps YUY2 (yuyv)
 *USB Video 1024 x 768 @ 10 fps YUY2 (yuyv)
 *USB Video 800 x 600 @ 20 fps YUY2 (yuyv)
 *USB Video 800 x 600 @ 10 fps YUY2 (yuyv)
 *USB Video 800 x 600 @ 5 fps YUY2 (yuyv)
 *USB Video 720 x 576 @ 25 fps YUY2 (yuyv)
 *USB Video 720 x 576 @ 20 fps YUY2 (yuyv)
 *USB Video 720 x 576 @ 10 fps YUY2 (yuyv)
 *USB Video 720 x 576 @ 5 fps YUY2 (yuyv)
 *USB Video 720 x 480 @ 30 fps YUY2 (yuyv)
 *USB Video 720 x 480 @ 20 fps YUY2 (yuyv)
 *USB Video 720 x 480 @ 10 fps YUY2 (yuyv)
 *USB Video 720 x 480 @ 5 fps YUY2 (yuyv)
 *USB Video 640 x 480 @ 30 fps YUY2 (yuyv)
 *USB Video 640 x 480 @ 20 fps YUY2 (yuyv)
 *USB Video 640 x 480 @ 10 fps YUY2 (yuyv)
 *USB Video 640 x 480 @ 5 fps YUY2 (yuyv)

Linux:
$ usb-devices

$ v4l2-ctl --all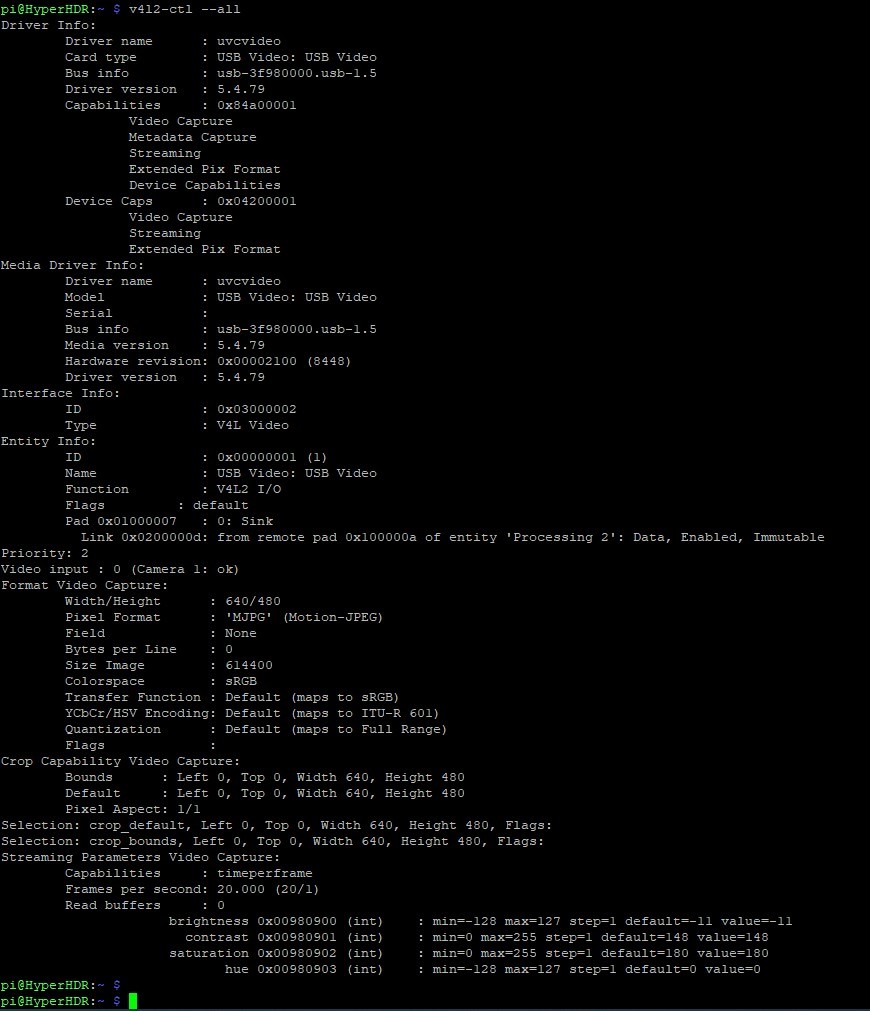 $ v4l2-ctl --list-formats-ext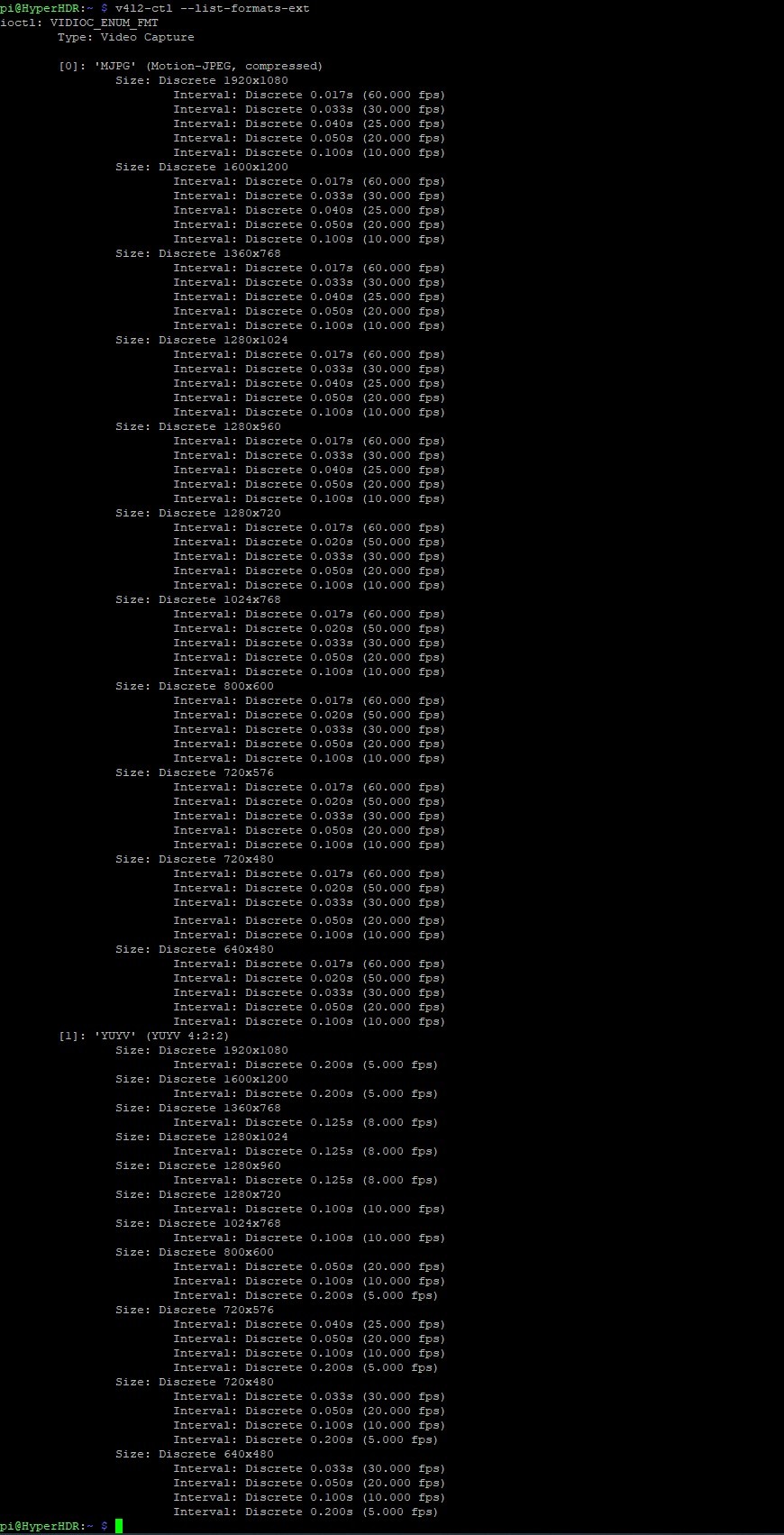 $ v4l2-ctl -L