Here is my build-log from new ambilight upgrade for HyperHDR WS2801 to SK6812 RGB(neutral)W. I'm absolutely not encouraging anyone to follow this scheme as there is potential hazard related to the high voltage from the modular power supply. I never leave the system without attention and power it off with Power Cube Remote when not used. The Rpi with Raspbian OS is using the read-only system on SD card so it can withstand sudden powering off.
One important thing about SK6812 RGBW
There is no one magic algorithm for RGB to RGBW conversion that works perfectly with every LED strip on the market. When I ran the first tests after building this setup the quality of the ambilight effect was poor and worse compare to the WS2801. That's because of the most common algorithm doesn't care at all about the white channel characteristics of the LED strip. In my case the light was a way too bright, warm and weak saturated. But I double check the order and I've ordered and received natural white version. Not the warm one. The solution was to calibrate RGB to RGBW conversion and it's done in https://github.com/awawa-dev/HyperSerialEsp8266 You can calibrate it also for your needs. After that I received beautiful colors: very natural and bright when is needed to but they don't lose a saturation what was a main problem before. Much better than WS2801.

Unfortunately you can't calibrate RGB to RGBW conversion in the HyperHDR "Image processing" tab because it's completely different process and it doesn't touch the white channel directly. You can use HyperSerialEsp8266 with individual setting per channel and WLED as it has build-in few preset mode also.

How to put all the things (hardware) together?
1) Parts
2) Frame or TV
3) Voltage level shifter
4) Measurement and testing
5) Soldering
6) Final result

From previous setup I have: a plastic case with a switch with a fuse and molex connector for the LED strip on the back, modular power supply (Mean Well RS-75-5), Rpi 4 with dedicated power supply.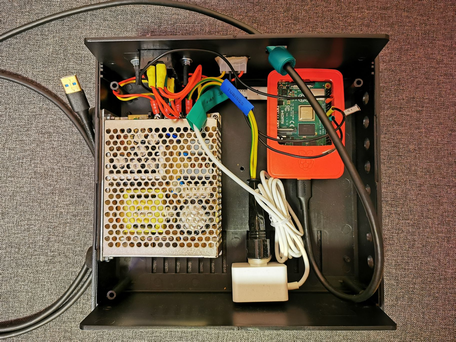 I will use now SK6812 RGBW 60 leds/meter from BTF-Lighting and wooden frame to mount it. I expected better quality and package protection from BTF but in the end it's acceptable.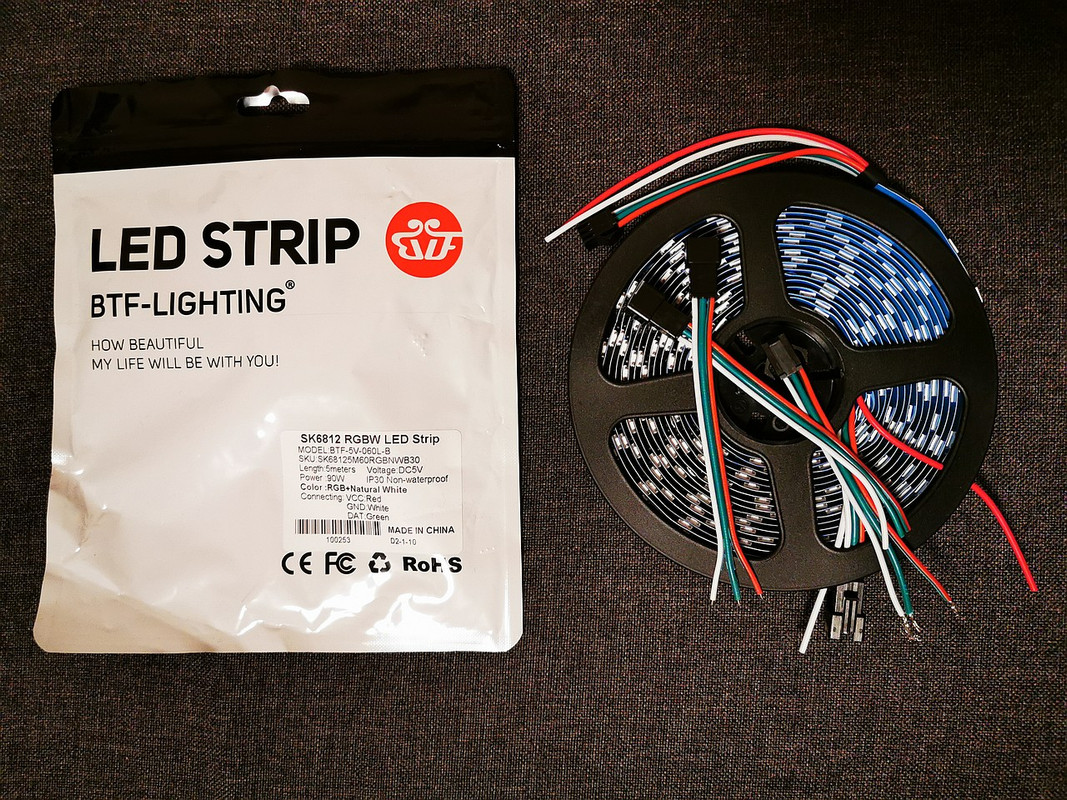 My TV's back surface isn't flat. It's a problem to create even Ambilight effects on the wall and to attach the LEDs strip to the TV. Second problem is very long TV's stand that it keeps TV far from the wall. So I choose to use the wooden frame.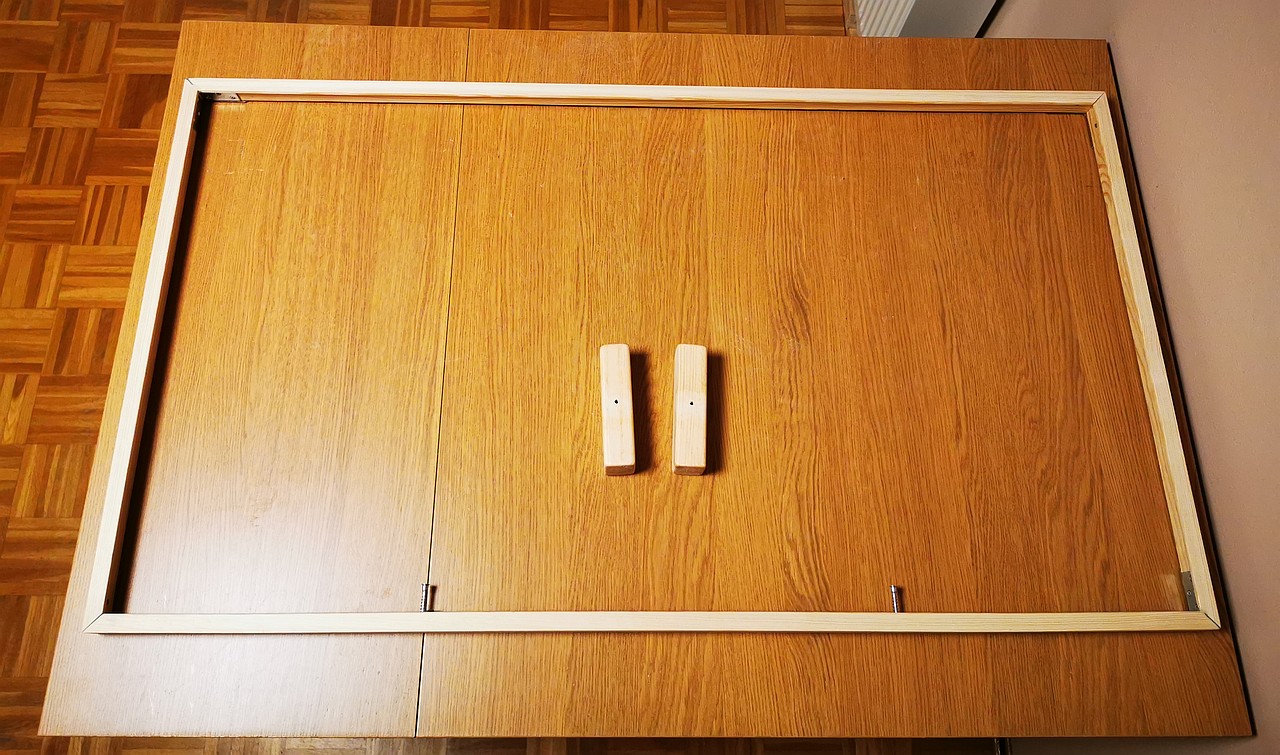 The dimension for my 55" LG is 122x68,5cm. The base's stands has 5cm height.

In my previous project (WS2801) I didn't use 3.3V to 5V level shifter and it worked. There were some random and very rare flashes, for example one per hour... sometimes it was OK for many hours/days, not sure if that was the problem. But now I don't want to take a risk. You can chose one of many available on the market IC level shifters but it must be a fast one. I found some opposite opinions (may not work well on higher bandwidth) about them and couldn't make a decision.

Then I found one old article about using one or two LED to increase 3.3V to level acceptable by the WS2812b/SK6812 controller. Link: https://www.electrobob.com/ws2812-level-translator/

In short: the LED feed by VCC = 5V requests al least 5V * 0.7 = 3.5V for data line . That's too high for 3.3V from Rpi/ESP8266, however it works in most case. But if we would feed first LED with just VCC = 4.3V then 3.3V would be perfectly fine for 4.3V * 0.7 = 3V. As a bonus the data signal after that passage would be amplified to VCC that was used (4.3V) and it would work then with the rest of the LED strip at VCC = 5V.

The problem could be the first LED but I take care of it in HyperSerialEsp8266 (WLED also has an option to skip it).

Here my implementation for Esp8266 Wemos d1 mini:
Used parts:
ESP8266 with CH340G Wemos d1 mini clone and HyperSerialWLED or

HyperSerialEsp8266 firmware

prototype board

some jumpers and wires

one SK6812 LED

1N400x diode
The solution for WS2812B is almost the same: just use the same type of LED from the strip.

As all my components have common ground I need only that Data-Out from this level shifter.

Voilà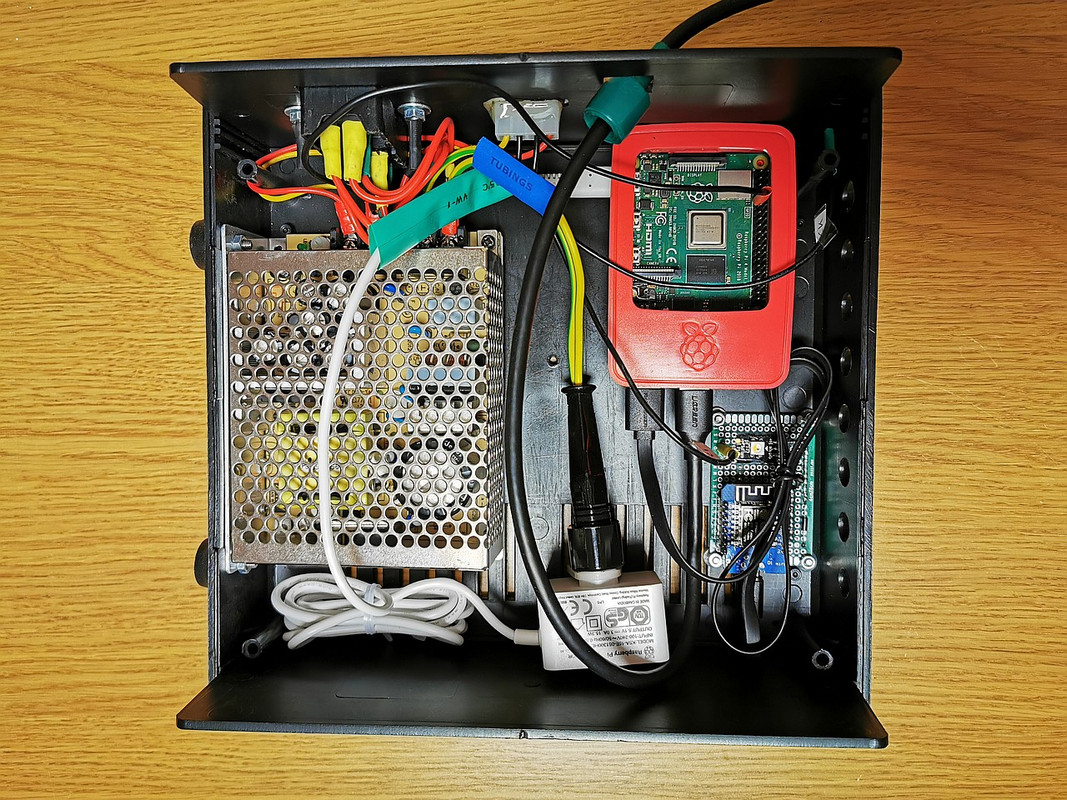 At this point you have working level shifter and WLED preferable to make some testing. Repairing the LED strip when it's already attached to the TV probable could be a very frustrating and difficult task. So we want to make sure it's working.



In my case everything was almost OK. LED strip was working, but I noticed one problem: the LED connector became hot when the LED strip was displaying white color for few minutes. And I tested only 3.5meter cut off segment of the LED strip. What would happen if I use full 5M LED strip? Probably it would become even hotter... The reason is poor quality of the wires used in this plug connector from BTF Lightning. I decided not to use it and to solder my proven cables directly to both ends of the LED strip at 5V and ground input (the data line is connected only at the beginning once of course). At the second end of this connector cable I have molex so I can disconnect the unit from the strip if I want to.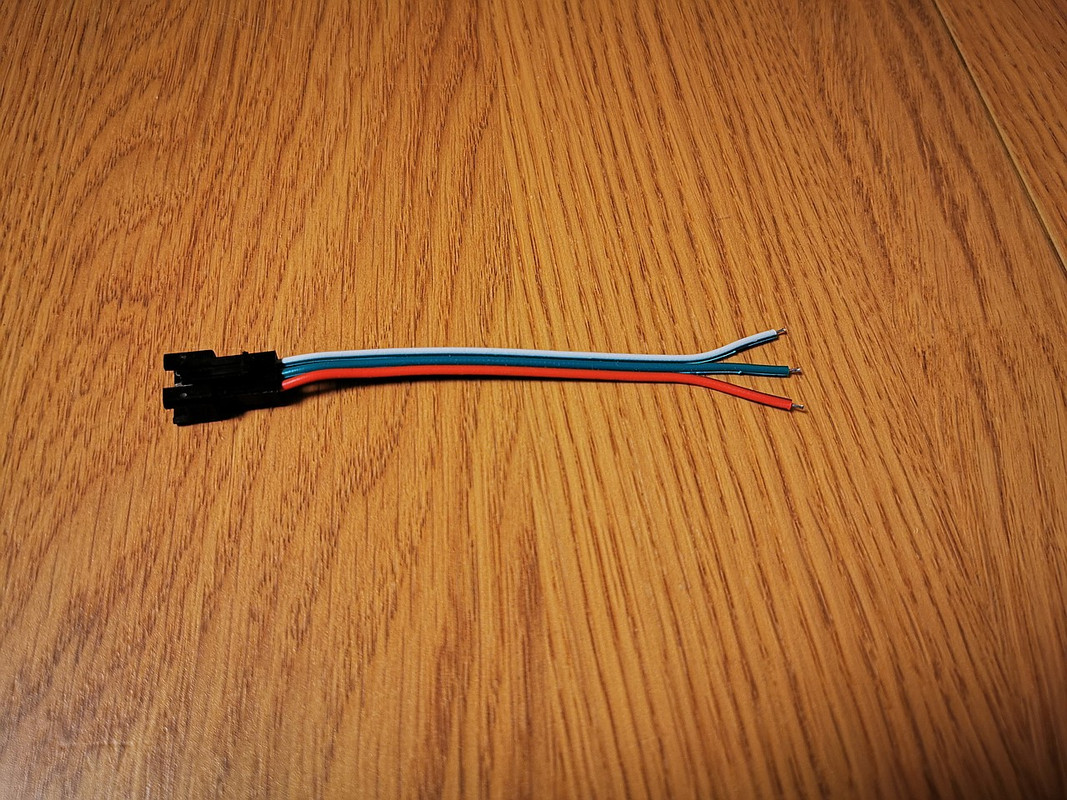 Despite I had already measured all the needed segments there was some drawback: one cut line laid almost directly on the soldering point from the BTF (the LED strip is constructed from connected 0.5m segments) and I had to cut it off, replace it and to solder new longer segment.

5) Soldering
Not a very pleasant process. Before I attached the segments to the frame I already prepared the soldering points with a tin: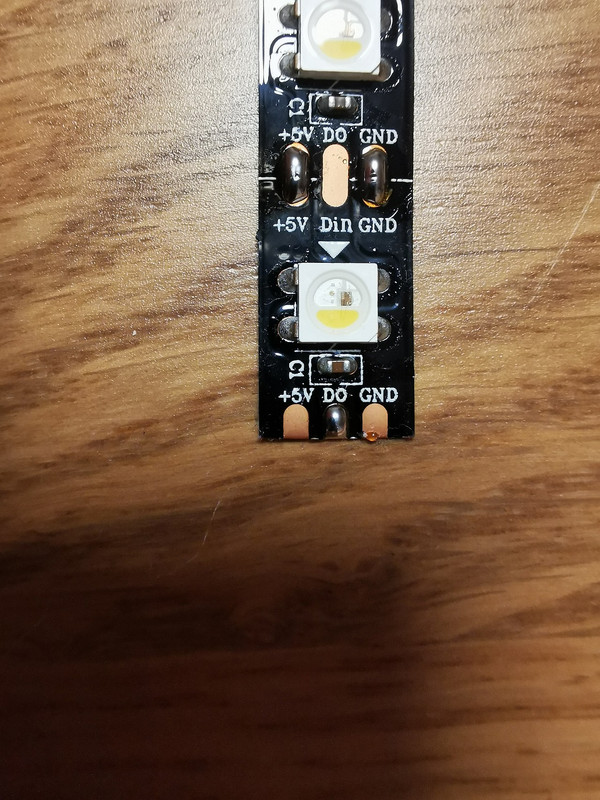 I wanted to have very narrow corners. For data signal I used thin solid copper wire protected with liquid rosin against oxidization. But for +5V and ground you need a thick cables. I used too thick ones and it was difficult to solder them to the LED strip.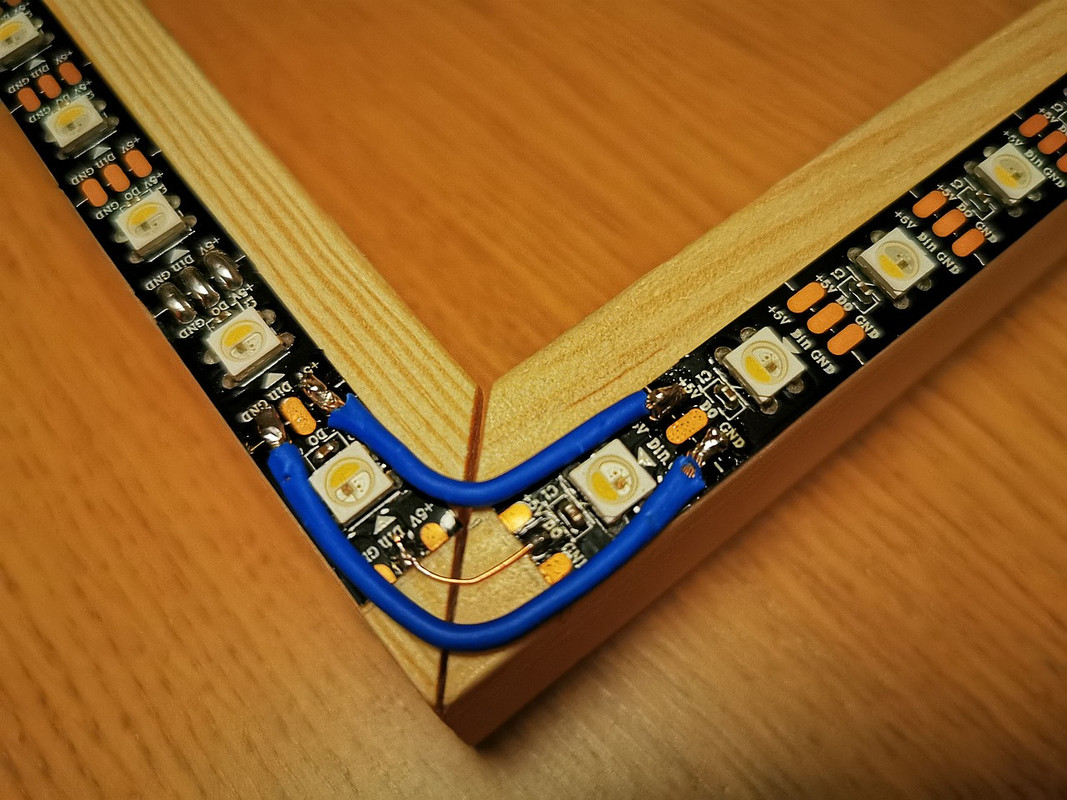 Not great, not terrible, but it's working. After every finished & soldered corner check with multi-meter the connectivity and also make sure that there's no short-circuits.

That's the critical moment. Will it work or I broke something during the soldering process? I wasn't sure about it but:
...it works! :)
It's time to attach the stands and to end the build.